Welcome To ShiftingWale.Com LLP.

Warehousing and Storage Services
:
(A Complete Shifting Solution)
ShiftingWale Warehousing and Storage Services has been one of the most reliable names in offering the Most Trusted Warehousing Storage Services for Household Goods. The warehousing capacity includes many loading docks along with plenty of space for production of materials for shipping and receiving. We understand the importance of security of freights while promoting them further to altogether different destination.
We recognize that any smash up to freights can cause a great loss to our clients. As a result, we take necessary safety actions to make sure that no harm incurs while shipping. For this intention too we cater Household Goods Warehousing Storage Services to our esteemed clients, our warehouses is fully pest cantroled time to time for safty your household goods, we are assured you that we care your belonging household goods for short trems or long trems without any lose or damage,
Our Clients Speak For Us
More information about our services as our most valued and satisfied customer reviews kindly Click :- Clients Review and Testimonials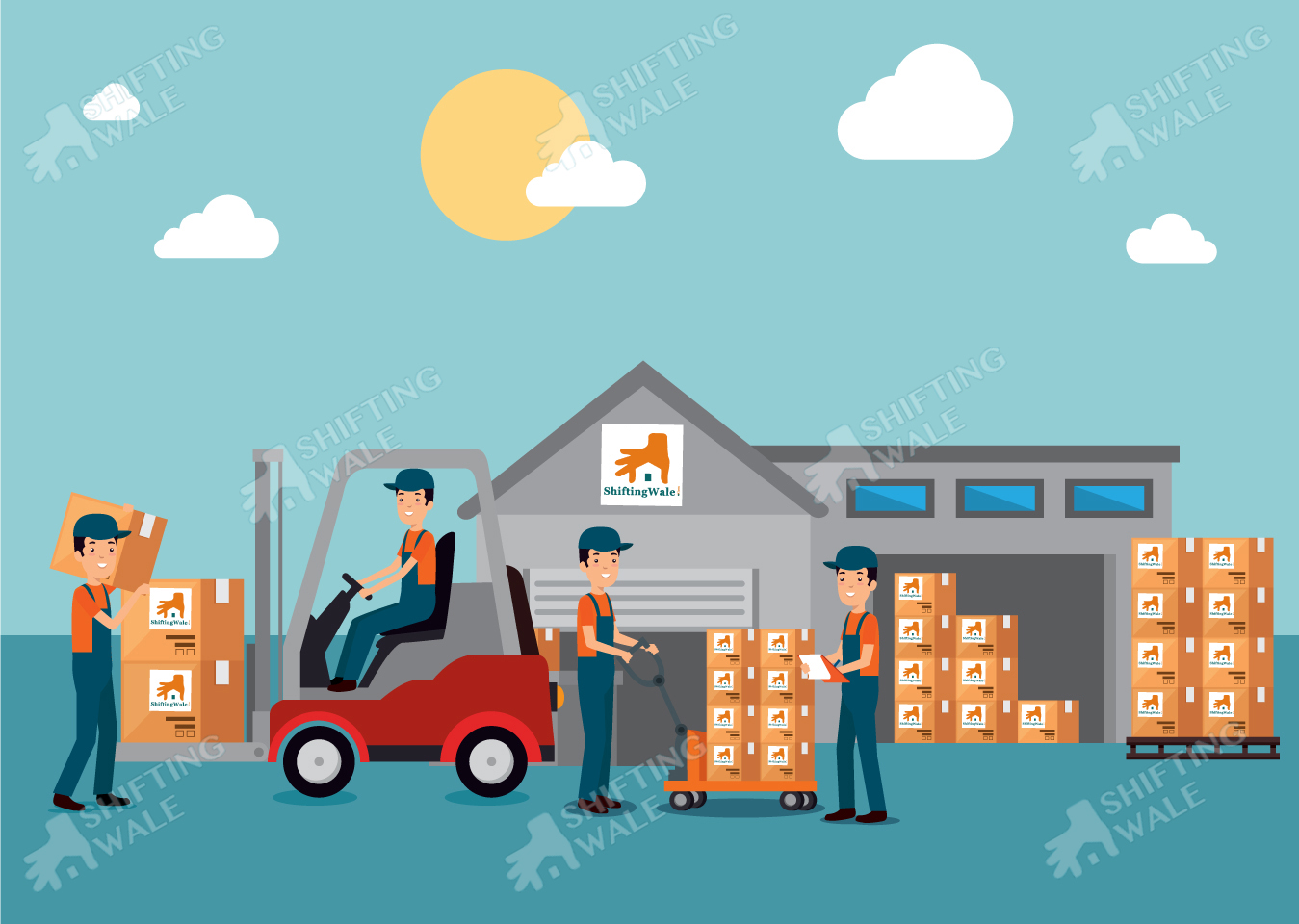 Warehousing and Storage Services For Household Goods
Services that Speaks Our team of experts knows methods to handle all the special materials. They keep all the inventory checks from time to time, that is as soon as it enters the loading dock till they are transported to their desired location. Our warehouses can very conveniently store documents, electronic equipments, machines, computers, instruments, antiques and various other stuffs. We provide the Best Storage and Warehousing Services for Household Goods that need to store for a specific time. Also,
We offer excellent storage go downs and warehouse facility with complete security at very economical rates. We also provide all the essential support needed by our clients to limit the overheads and supply them security check all round the clock with ShiftingWale.Com India.
Best Storage and warehousing Services Near Me
Bonuses that Benefits ShiftingWale.Com cater our patrons with superior Warehousing services, which are valued for advantages like security, cleanliness, temperature control and safety. This warehouse is designed by us bearing in mind all the protection features so that all the stored materials can be safeguarded from an unforeseen damage. Stretched over a large area, our warehouse has a huge storage capability, because of which, we are capable of storing diverse items individually for the trouble-free retrieval.
We are providing our best warehousing services for household goods since 16+ year, you can store your household with ShiftingWale.Com without any hesitation, we are providing warehousing or storage services for household goods in all major cities like Delhi, Ghaziabad, Trusted Warehouse, Storage Service For Household Goods Noida, Greater Noida, Trusted Warehouse, Storage Service For Household Goods Faridabad, Gurgaon, Mumbai, Pune, Hyderabad, Chennai, Kolkata, Guwahati all major city in India
Trusted Warehousing and Storage Services For Household Goods By ShiftingWale
We are the most outstanding and reliable packers and movers. Our company provides the most affordable and best warehousing as well as storage solutions to our clients. We have a team of skilled professionals who ensure that every security option is taken for shifting your every valuable item that is used in your office or house. Our company let customers store the packed good, house furniture, antique furs, linens, and items. When you hire our team, you can get the finest storage and excellent warehousing services to keep your goods safe for particular time duration.
Our team also provide the Most Trusted Household Goods Storage and Warehousing Facility with better safety at affordable rates. Our storage and warehouse services are actually handling as well as controlled completely under awesome warehouse safety program and plan. It is actually associated with a sturdy attempt of the fire protection actions, structure and other security measures. We provide various storage and warehousing services to bring our clients pleasing and awesome services. Our specially developed warehouse offer sound and protected storage solution for your valuable goods.
Most Effective and Quality Storage and Warehousing Services
We always offer the complete and qualitative storage and warehousing services to our appreciated clients. We offer finest corporate storage go-downs and warehouse facility with great security. These are awesome services which are available at very affordable rates. We warehouse and other storage services offer better security to your goods in the warehouse. We provide the required support for our customers to increase the efficiency, reduce overheads as well as cut down the useful management team.
Our Warehouse and Storage Facilities are Available
for commercial, corporate users and people who look for a safe place to store their items. We have a huge warehouse where you can store various kinds of things of various sizes or weights. Our company offers different kinds of warehousing services and other storing services. We have a team of skilled and experienced warehousing and storage service providers. Our experts also guide you to store the items in a secure and safe manner. The warehouse of our company is equipped with Long Time Household Goods Storage Warehousing Services which ensure protection from various hassles.
Warehousing and storage services
Warehousing services principally consist of storage facilities for domestic goods, household goods, Furniture, and automobiles etc. We make available for you both short term and long term storage services. We Store The Household Goods for Short Term or Long Term according to the requirements of the customers.
We cover following services in our warehousing and storage amenities:

Inwards Logistics * Delivery services * Stock management * After marketplace services * Household goods storage services with insurance.
Warehousing and storage facilities in economical way
We at ShiftingWale The Best Household Goods Storage Services make our services available in most reasonable and affordable rates. We know your budget and hence we are confident that you will find our prices within your means. With us you can get the warehousing facilities in most economical way.
About warehousing
To give you professional warehousing services we have spacious rooms so that all your goods are stored comfortably whether the storage is short term or long term. We ensure hygienic place for storage so that there are no chances of getting the goods damaged. Niceties such as management of labours, security, and transportation among others are taken superior care of. We have expansive warehouse units which are given on rent to the customers so that they may make use of it to keep their goods and other products without harm up to the delivery time.
We include following facilities in our warehousing services
Specialised Storage amenities- we provide clean environment and spacious warehouses * Watchful Carrying of goods- We move the goods carefully so that they remain safe * Storage – we provide both temporary and long term storage facilities to our customers. * Settling- in assistance * Insurance assistance- We also help you for insurance of your goods if you wish to get one. * Documentation- We assist you in regards to the Documentation and any other storage related paperwork
We have all the answers
We at ShiftingWale packers and movers have know-how in providing answer in household goods warehousing. We deal in warehousing of a wide range of household goods like furniture, crockery, TV sets and computers etc. We provide skilled warehousing and even the most delicate item will remain safe in our warehouses. . Our warehouses are armed with standard racking that is hygienic. All the inward in to the warehouse are kept correctly after severe reviews. 
. 
Following are our best features because of you will feel proud about being our customer


1) Great care of the goods
2) Extensive network with excellent infrastructure

3) Economical rates

4) Warehousing services available for Major Cities All over India 

5) Forward-thinking technology to observe actions of consignments

6) Accomplished manpower with knowledge of latest technology.
Want to Store Your Household Goods in Warehouses

and Storage Facilities
So if you Want to Store Your Household Goods in Warehouses as a part of your relocation process then just give us an opportunity to serve you better. We will help you whether you need it on long term or short term basis. You can believe in us regarding warehousing and storage facilities, For further information regarding our services, Call our 24x7 Customer Care Center.
Warehousing and Storage
The definition of storage varies depending upon the type of business or trading someone is dealing with. While a manufacturer would have storage of raw materials for its smooth production, a trader would maintain a stock of its products. There could be various other reasons for someone to store their goods or any particulars. In agriculture, some particular type of food could be stored due to its demand for the whole year and its production for just one season. While other goods could be stored as they might be demanded during particular seasons like umbrellas are demanded only in the rainy season.
Warehousing is otherwise known as 'godown' and is a kind of building where goods are stored. The various uses of warehouses are that they protect goods the might be moved to the factory or the market. It even serves as a place for storing goods that are received in bulk and to facilitates avoiding an 'out of the stock' situation. It provides employment opportunities apart from equalizing price by matching the demand and supply position. The users of the warehouse mainly include manufacturers, exporters, importers, customs, wholesalers, transport businesses, and many more. Among these users, we, ShiftingWale, also use warehouses for storing several of our transporting goods mainly related to our customers.
Advantages of Warehousing and Storage Facilities
The customers who are shifting to a different location, especially to an international location, worry about their goods being transported in bulk towards abroad. They even get worried about goods safety as the transportation of heavy materials apart from their bulkiness creates a great chance of damage to them. Thus, to cut out this risk and even save them financially, we, ShiftingWale, furnish our customers with Warehousing and Storage facility. Our customers could easily lower the pricing that could be offered to them due to the heavy load that they would transport to their destined location. We always store these goods spaciously so that no scratching could also be seen on these items due to our carelessness.
Planning Of Storing Household Goods At The Warehouse
The customer could be someone who might be shifting their house or office to a new location and need to store some of their goods in our warehouse. Some others could be someone who is businessmen or traders who might be shifting their business or trade, respectively to any further new location. There might be a chance that many of them would be willing to store some of their stock in the recent location according to their planning or due to heavy loading on the vehicle. This planning of storing goods at the warehouse also helps in lowering various financial losses that the customer might have faced otherwise. These losses might have been caused due to various reasons which include fire, theft, damage, or any other.
Relibale Storage Services For Household Goods
We understand that sometimes customers could find this process to be like putting an extra hole into their pockets. But this additional charge is never forced on our customers and if they will have this facility we ensure them it adds an extra value relating to our other services. We enhance our capabilities of storing our customers' goods securely at the warehouse with our expert team. Our team is equipped with all the latest technologies securing the safety of goods even at the warehouse. Through these security benefits, the customers' goods remain intact in their original positions until the time they are ordered to be taken out of our warehouse by customers.
Receivers of Our Warehousing and Storage Service
We, ShiftingWale, provide our services not only for those customers who are relating to any business or trade and need to store their stocks before or during shifting. But our services are also valuable for our other customers who are shifting their household goods or relocating their office or industry. The household goods are also stored as there are times when some customers have a bulk of household goods which include a variety of furniture or any other items. These items could not be transported with that much ease as other goods small in size or lightweight. Thus, they are stored for time being and when other small items are transported to the new location, then these items are also transported.
Car and Bike Long Time Parking Services
Those customers who are shifting their offices or industry require more of this warehousing and storage facility as sometimes they might need to store their goods. As office and industrial area requires a variety of machines and tools for their smooth functioning but the shifting could be delayed due to these. Thus to save our customers from their financial crisis during this shifting process, we provide them with this warehousing and storage service. We let those customers who are shifting their industrial or office goods to a new location, mainly to any international ones, store their heavy tools or types of equipment. In our warehouses, we have highly technical security systems and 24/7 manual security personnel hired for the safety of these goods also providing Car and Bike Long Time Parking Services.
Household Goods Warehousing and Storage Service
The customer could take back their goods from us whenever they feel to or thinks to be safer for transporting. These goods are never touched or opened by any member as we keep a check on every item at each moment. This step from our side even secures those items from any outer threats like theft or burglary. Even after such tight security and restrictions, there are chances of damage to these goods. Thus, we, ShiftingWale, even provides an insurance policy for any damage to any goods that might have occurred during this warehousing and storage service. Through this policy, we let our customers claim to us for any kind of damage or harm that might occur to their goods. This policy has let our customer build a stronger trust in us services and rely only on us every time they need our services. Those who need our services can contact us or visit us to their nearby location in their city as we provide our services in various cities including metropolitan cities.